Sal's Contracting Company knows that building a successful business in this industry means laying a foundation of satisfied customers. That's why from day one, every job we've ever completed and every customer we've ever served has been given our utmost attention and care.
When You Care For A Building
We understand that your building is an extension of who you are – whether it is your home or your business. A house represents your personality. A building gives a face to the spirit of a business. With that in mind, every Sal's Contracting job begins with us considering your vision and needs. At every step, we listen and consult with you to capture the vision you've got in your mind's eye.
Old & New Properties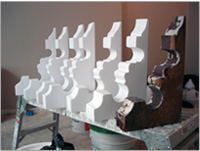 The Hudson Valley has a rich history, and its stunning architecture tells centuries old stories that we aim to preserve for you and for generations to come. Whether you are restoring a property in period detail or tastefully updating an historic property with modern flair, our goal is always the same: give you the results that will make you happy.

Every historic property, at one time, was new construction! So when we work on new construction, we envision the future of that property. We use only materials and techniques that will stand the test of time, so when your project is done, it will enjoy a long and beautiful life.

Highest quality? Goes without saying!
Customer Service? We've got the best around!

With a just few details you provide, we'll get you a FREE QUOTE fast. No obligations.
Get That Quote